Zyanya: The Combination Of Minimalism And Luxury Furniture In Apartment Design
Zyanya is the expected freehold project this year, it is located at 8 Lorong 25 Geylang district 14. With a total area of 1061.80m2 including an 8-storey residential block with car parking on the 1st floor, the project Although this project has only 34 units, it contains almost all available utilities that residents need. Offering 1 to 3 bedrooms, with unit sizes ranging from 441 sqft to 1302 sqft / 1313 sqft, this project will create a contemporary community of families and singles living together. This new apartment will be a new representative for a cultural community with modern living values, sustainable and harmonious love.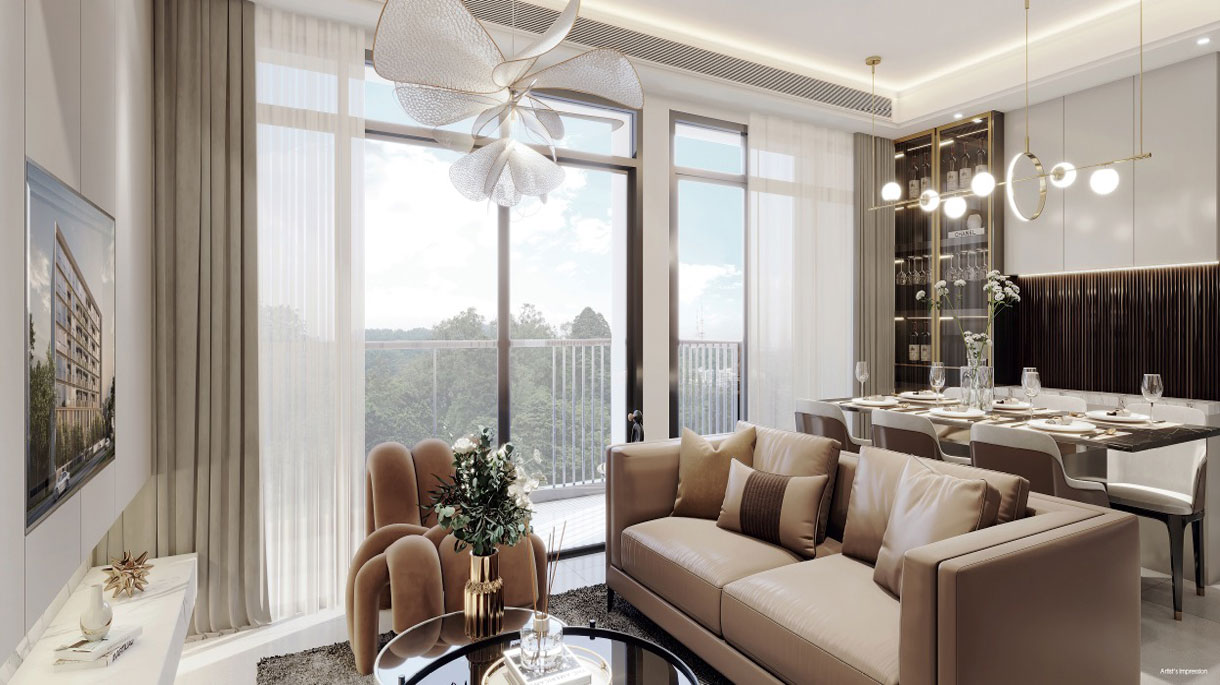 Zyanya's Interior Design: The design scene of the living room area
Keep exploring Zyanya Condo Landscape Design's lively and modern amenities, this article will give you more insight into its landscape, distribution and details of its design thought. Explore now!
Zyanya Condo's interior design and apartment layout is an interweaving combination of minimalism and luxury furniture to effectively serve the needs of not only living, but also enjoying life. A streamlined lifestyle leads to less clutter, which leads to more focus, which is why the minimalist lifestyle is gradually gaining popularity. For example, designing your own corner with a neat desk helps you focus more and work more efficiently. Feeling more focused and more productive leads to a greater sense of self-satisfaction, which in turn makes you feel happier. While minimalism is all about simple living without clutter, luxury minimalist interior design elevates life with high quality and high living. Such designs still focus on clean lines and open spaces but make sure that only the finest furniture is used to provide a premium living experience. If you find yourself drawn to the chic minimalist design style, then this apartment is an option worth considering.
In addition to providing you with the ideal living space, each unit at Zyanya Residences uses exquisite interior products from famous brands, increasing the luxury of the house. Also, the similarities between minimalist interior design are very similar to modern interior design, by using essential items to create a simple and uncluttered space. Here, each apartment is characterized by simplicity, clean lines and a monochromatic palette with colors used as accents. Rooms often incorporate an open floor plan, lots of light, and functional furniture, and it focuses on shape, color and texture of just a few essentials. The minimalist approach uses only the essential elements: light, form and beautiful materials, often in an open plan layout, to create a feeling of freedom and relaxation. There is no excessive decoration and decoration. Instead, a few details are used uncomplicatedly and harmoniously into the scene. This can be a single piece of art decorating the living room wall, or a beautiful vase of flowers on the dining table.
Find out more about Zyanya Condo by discovering exciting news and suggestions about this project here!
Book An Appointment Via The Registration Button Below
Grab your unit now and be able to take advantage of discounts and promos available at Zyanya Condo