Zyanya Other Projects | Gems Ville - Provide effective local amenities for a new life experience in Geylang.
Zyanya is a newly launched freehold condominium consisting of 34 unique homes ranging in size from one to four bedrooms. Just outside the city, the excitement of the Central Business District and the lure of future workplaces stretch across Singapore's financial hub and Paya Lebar Shopping Mall is just a stone's throw away. In short, bringing more career opportunities closer to home. Zyanya is an outstanding residential complex with top amenities. Each unit is purpose-built with cutting-edge architecture and cutting-edge home technology to elevate your life. 
Zyanya Condo are attractively priced. Due to the relatively low land acquisition price and realistic valuation of the developer, this will be the ideal choice for investor owners who also want the best for their family. If you want an apartment with a smaller scale, you may be interested in projects closer to the center, such as Gems Ville. Check out the details of this suggested project below.
Maybe you are interested in projects like Zyanya with more attractive prices, continue to see more other projects here. Don't forget to quickly connect with the Consulting team for exclusive information ASAP!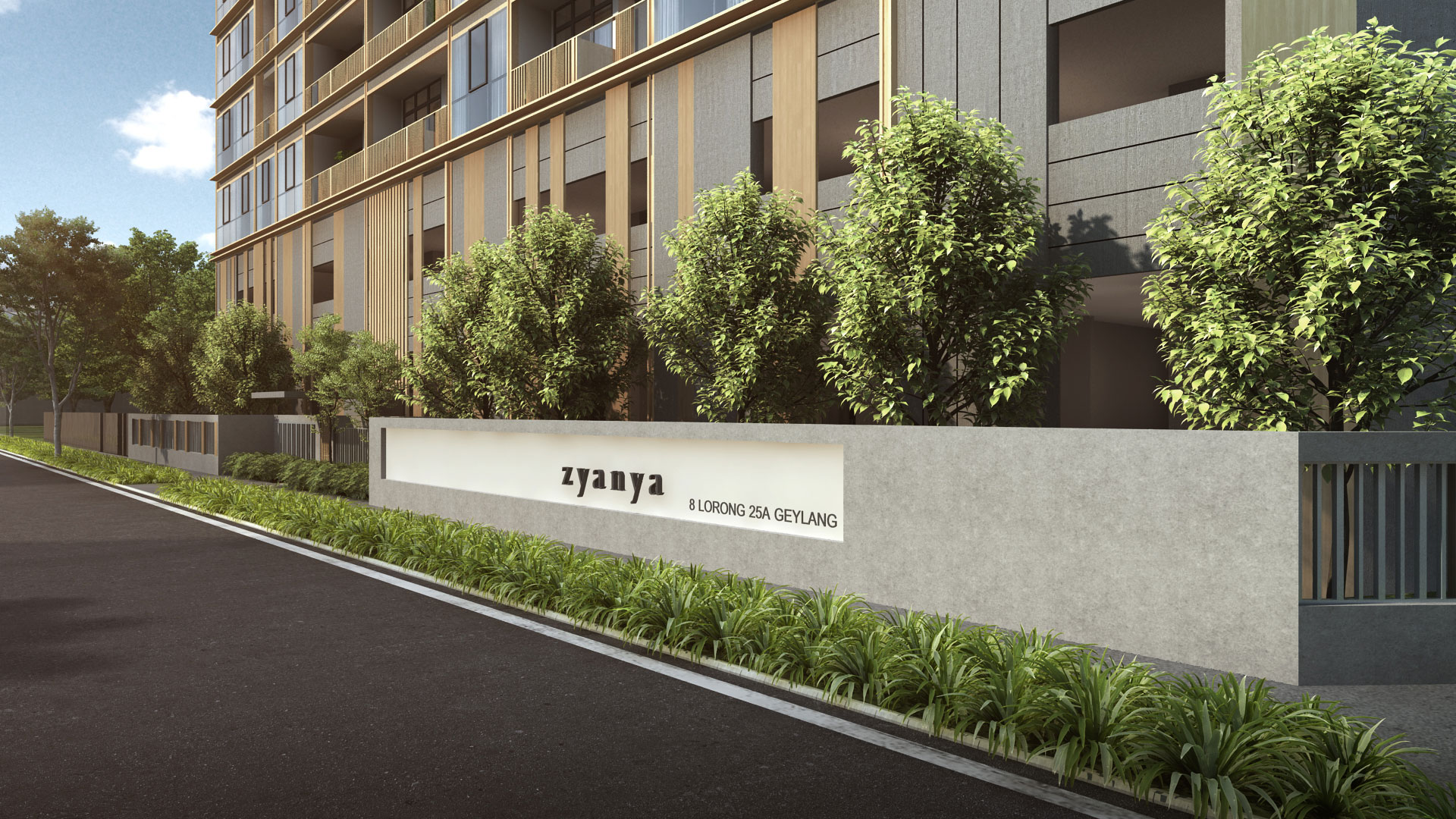 Zyanya facade - The landscape with greenery
Both Zyanya Condo and Gems Ville are highly anticipated projects since their announcement. In which, the only difference between these two projects is the amount and scale of investment. It is known that Gems Ville is a free-standing 8-storey apartment building with shared facilities, conveniently located in District 14 along Lorong 13 Geylang. Possessing a modern beauty, the apartment is expected to be completed in 2025, attracting attention from the surrounding urban area with its open facade. With a land area of ​​just 7,868 sqft, this apartment is definitely a small development. The residential project will include units in TBA ranging from 1 to 3 bedroom apartments. Besides, the apartment is within walking distance to Kallang MRT and Mountbatten MRT stations, making it easy for residents to move to other destinations in this area.
On the other hand, Zyanya Residences is located on the edge of the city, while Gems Ville is a new apartment located in the busy central Geylang area. This is a future development place with many advantages of location and facilities, giving residents a comfortable and affluent life. The project is expected to be the highlight of the historic Joo Chiat area, giving the area a fresh and youthful appearance. Gems Ville promises to be one of the new high-end and modern projects of District 14 with a suitable price to attract investors and home seekers. Quickly contact us to receive the latest information as well as price promotions from investors.

Gems Ville Location Map - Designed with a sweeping view of the bustling and vibrant Geylang scene
Register Us To Receive The Latest Updates!
Zyanya Condo - At Home With Wellness Luxuriate In Comfort