Zyanya Condo | Lifestyle
Zyanya owns an attractive position in the heart of District 14 will make you glad to call it home. The neighborhood is a refuge for those seeking a convenient lifestyle that balances indoor and outdoor living. As we know, convenience is an important factor so that future residents at the condo will not have to worry about the variety of modes of transportation, a superb location, and being easily accessible to a variety of amenities. The development has well connected that is nearby a number of restaurants, education institutions, shopping malls, and recreational hubs. With an address in a hustle neighbourhood, it is the perfect abode where you can experience a new exhilarating metropolitan lifestyle.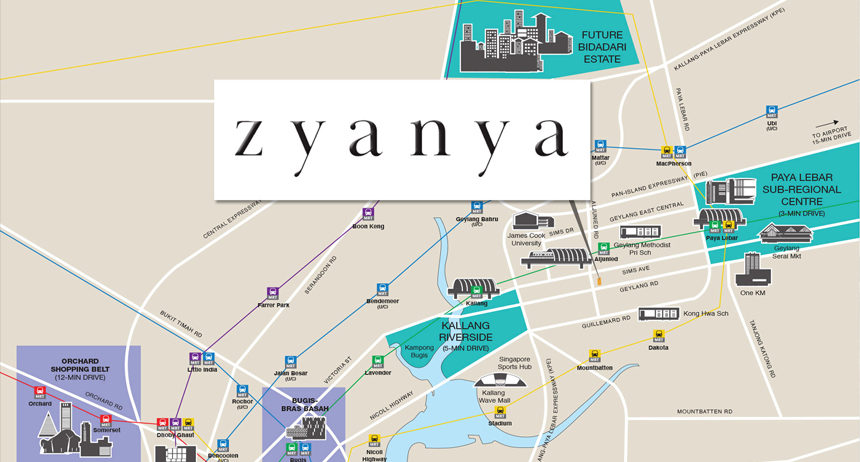 Zyanya Condo Location Map
Residents living in Zyanya Condo just take 1-stop Paya Lebar MRT away to the Paya Lebar Quarters. This newly built site offers 2 Grade A offices, a shopping mall with a cinema, and an open plaza. Residents are able to enjoy the newly built amenities that the location has to offer. This includes many unique shops and F&B, big events, and various exercises activities over at the open plaza. In addition, the Grade A offices provides a huge tenant pool which is an advantage for investors that wishes to purchase the condo. Moreover, also 1-stop away from Kallang MRT is where residents are able to enjoy sporting and leisure activities. A range of infrastructure built for sporting activities is located over at the Singapore Sports Hub and the surrounding building. Shoppers can also patronise the Kallang Wave Mall to shop for sporting apparels and equipment.
DISCOVER CONNECTIVITY AND CONVENIENCE OF ZYANYA HERE
Zyanya Condo With Many Flavours Life Has To Offer
In the vicinity of Zyanya Residences, we cannot help but mention the cluster of large shopping centers nearby such as Paya Lebar Square, Singapore Post Center, Tg Katong Complex, PLQ Mall, City Plaza, Kinex,... just about 5 minutes drive. Surrounding the development, there are really a myriad shopping malls, giving you countless options such as iMall, Parkway Parade, Bedok Mall,... with 7 or 8 minutes drive. Or you can also move to downtown such as Marina Bay Sands, Central Business District and shopping paradise Orchard Road with about 8 MRT stops. Shopping has never been easier. The condo is considered an ideal place to live when it meets all the needs of the people, even the smallest.
Moreover, Zyanya is also connected with rich ecosystem with green parks such as Bedok Town Park, East Coast Park, Bay East Garden,... You will experience all kinds of physical activities as well such as improving your wellness by jogging along the East Coast Parkway, doing physical exercises or cycling, skateboarding,... You can go to Bedok Reservoir to enjoy the fresh air of the reservoir or you can spend about 8 minutes driving to go to East Coast Park marine ecological area, where the convergence of recreational activities on the sea as well as relaxation such as boating, sunbathing, driving motorboat,... Or go a little further, practice your golf skills at the Marina Bay Golf Course, or admire the stunning views of the island at the central Gardens By The Bay, Singapore Flyer,...
Zyanya offers an experience of modern resort homes that provides you a tranquil retreat from its lively surroundings. Explore more about Zyanya Amenities to not miss any attractive destination nearby the development!
Email Us Or Fill Out The Form Below To Receive The Latest Updates
Indulge In A Lifestyle Of Convenience at Zyanya Condo