Zyanya Landscape Design | Bring relaxation and refresh your soul
Specially set up for modern living, Zyanya is a new freehold project located at 8 Lorong 25 Geylang in District 14. The project has a total area of 1061.80m2 including 1 8-storey residential block with parking lot cars on the 1st and 2nd floors and the swimming pool on the 3rd floor, fully designed with necessary internal utilities. So, if you are the type of person who prefers privacy and city life, then this development will meet your needs in a great way. In addition, the development offers you several places where you can enjoy your drinks and food. This is definitely a development not to be missed if you want to stay in a city and secure a place to stay with your children.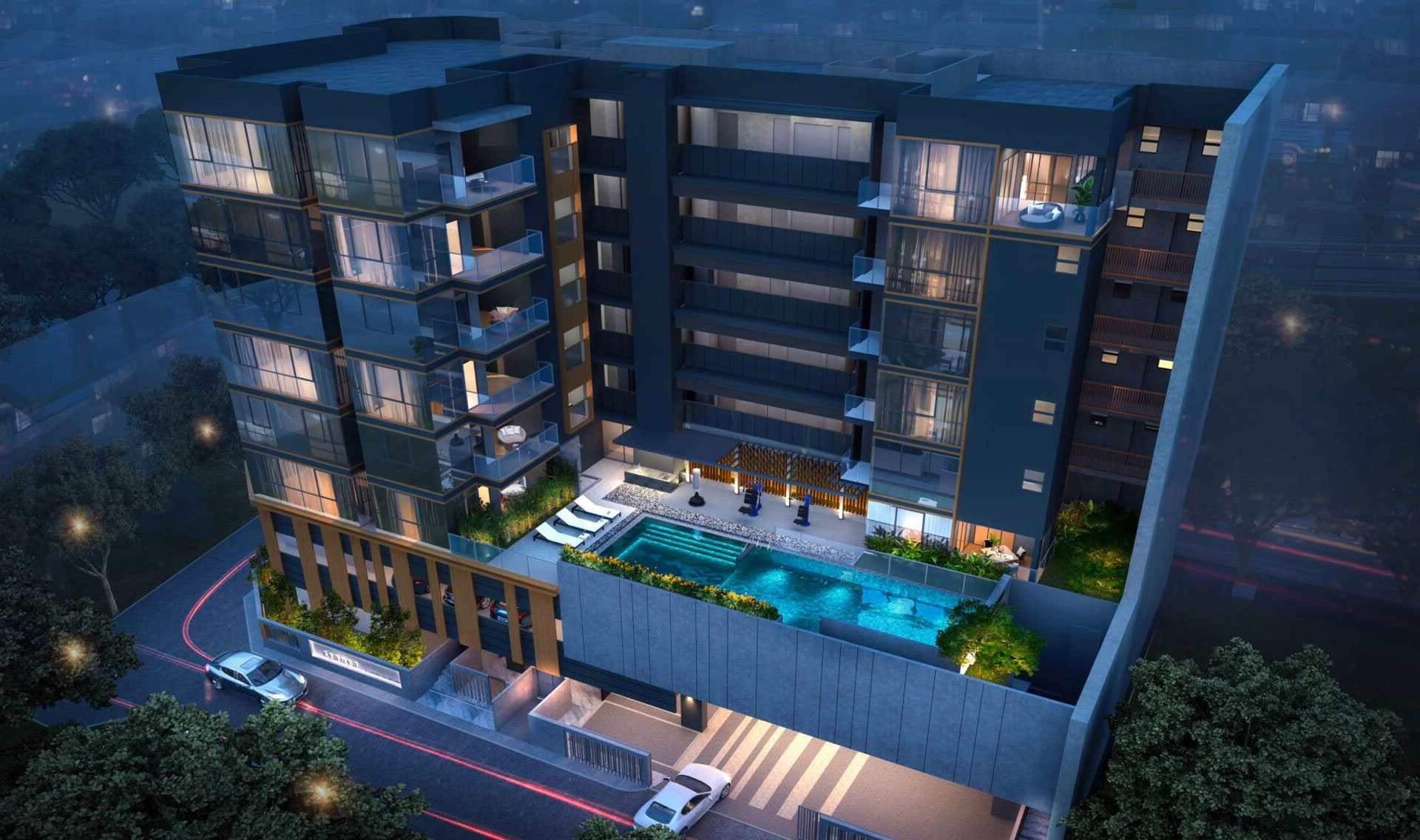 Overview of Zyanya's landscape design when viewed from above
With exquisite landscape design, Zyanya Condo brings you interesting, peaceful and comfortable living experiences. Entering the apartment premises, you will find a seamless utility campus located in the center, providing a range of facilities for an enjoyable experience like never before with an apartment of only 34 unit. Carpets of flowers and flowering shrubs add color and beauty, along with just enough greenery to provide freshness and not take up too much space. Well-designed and well-lit walkways both add security and appeal, accent the best features of the entrance, and provide a sense of security. If you are a person who loves a healthy and connected lifestyle, stay healthy and fit with a chain of outdoor gym facilities located in a central location, adjacent to the pool area. Next is a large swimming pool area with 2 areas for adults and children, enough to provide a relaxing space under cool water.
In particular, Zyanya Residences allows you to relax and sink into a holiday state of mind. Pleasure is the order of the day with a variety of recreational facilities centered in the middle. Enjoy the simple pleasures of a picnic at the Outdoor Pavilion (with BBQ Pit) while the kids can enjoy a swim in the nearby lake. The stunning landscape of this development welcomes its future residents with an abundance of greenery. Surrounded by towering buildings, residents can take a break from the busy atmosphere. The calm and serenity in its premises. Live with top quality finishes of luxurious layouts and sleek and spacious designs meticulously designed with luxury and elegance in mind. Each individual space is equipped with the best accessories and finished to your liking.
Explore in detail the facilities at Zyanya Condo Site Plan, enjoy every day and fully experience all the essentials available, see today!
Register Interest And Receive Offers Immediately
Indulge In A Lifestyle Of Convenience at Zyanya Condo