Suggestion of some prominent international schools in the vicinity of Zyanya Condo.
Zyanya is a condominium project found at a prime location in District 14, 8 Lorong 25a Geylang. The condo is just a few minutes' drive from the Central Business District (CBD) and connects to major roads including motorways such as Pan Island Expressway, Central Expressway and Kallang Paya Lebar Expressway, providing Residents can easily move anywhere in the city. In addition, for a traffic-free trip, residents living here also have easy access to MRT stations within a few minutes walk such as Lavender MRT, Mountbatten MRT, Mattar MRT and Aljunied MRT nearby. For young couples or families with young children, it is wonderful to surround the project with famous educational institutions. Besides the public schools, around the project are a series of international schools with all levels of education and excellent teaching quality, giving the children of residents the most advanced education. The following is a suggestion of some prominent international schools in the vicinity of the project.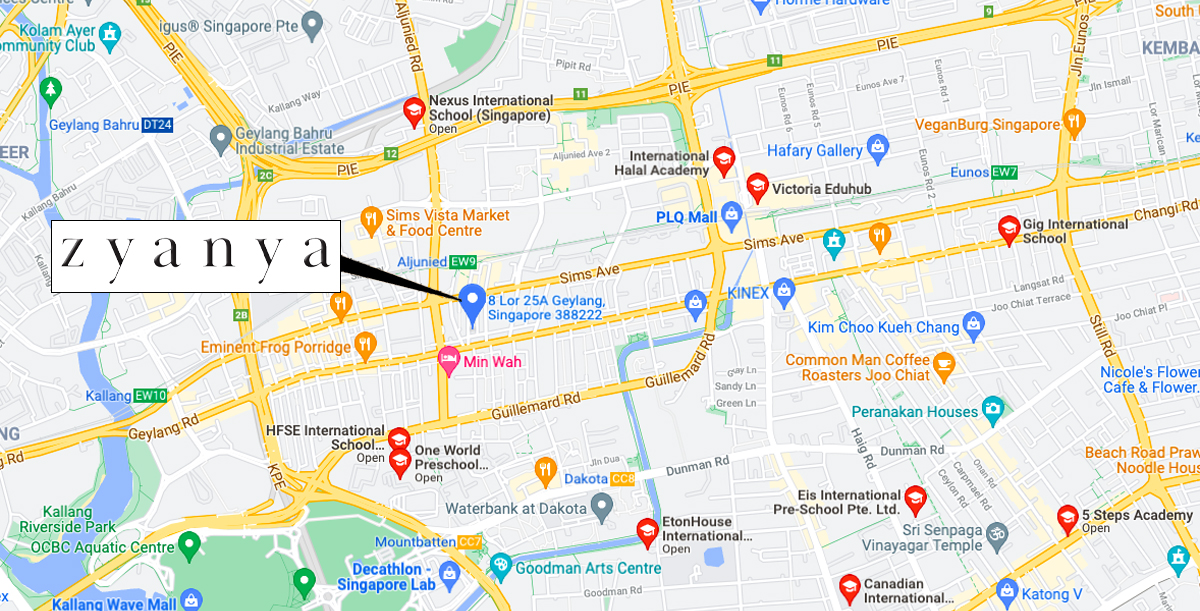 Suggestion of some prominent international schools in the vicinity of Zyanya Condo
At Zyanya Condo, the system of neighboring international schools offers quality training programs that add diversity to students. Private educational institutions (PEIs) offer certificate, diploma (Diploma), undergraduate, and graduate courses for both local and international students. Through partnerships with many prestigious universities in the UK, USA, Australia... Singapore private schools give students the opportunity to own international degrees in a safe and friendly living environment. International schools will often educate students to become independent, thinking, proactive people ready for the road to university in Singapore (or other countries) and beyond to be independent in their careers. . Therefore, choosing an international school for your child is an extremely important investment, not to mention being very close to where you live.
Discover More About Zyanya Education Now
Learn more about educational systems in the vicinity of Zyanya Condo!
Residents living at Zyanya Residences can easily send their children to international schools such as Nexus International School (Singapore), just a 4-minute drive from the condo. This is the place for your child's inspirational learning starting with professional and motivated teachers with over 80% of teachers having more than 5 years of teaching experience and 2 or more professional qualifications; highlight the experience that teachers have to provide quality education to all students studying at the school.
In addition, about 9km from the project are two famous international schools, EtonHouse International School Broadrick and Canadian International School Singapore, which develop confident and capable global citizens, giving students the opportunity to develop. through a varied and challenging curriculum and a wide range of activities.
If you're a 12-minute drive further north, you'll be able to enroll your child at Stamford American International School Singapore. Where students are empowered to take ownership of their own learning and are encouraged to participate actively in their own education by setting personal goals and practicing continuous self-assessment. Each student at Stamford American is treated as a unique individual and is guided, advised and supported to discover their great potential. Our question-based programs and activities encourage students to explore their interests and strengths. All of this is done in a safe, caring and supportive school environment, which helps foster positive attitudes and allows students to challenge themselves and take risks without fear of being judged.
Read more Zyanya Condo latest news, to not miss any important things and grab your opportunity to live in a classy and comfortable home!
Zyanya Condo - Your Perfect Home Awaits
Register With Us To See Available Units