Sightseeing & Shopping: List of busy markets near Zyanya Condo
As new and impressive start in Geylang area, Zyanya is a new Freehold and exclusive apartment project in District 14 built by Neo Group and Boldtek Holdings. This new development, located at 8 Lorong 25A Geylang, covers 11,429 square feet and has 34 individual apartments for sale. With an 8-storey structure, the apartment offers apartments for sale from one to four bedrooms with rich types and areas for buyers to choose from. Reportedly, this project is expected to be completed in 2024. Rated as an exclusive collection of apartments, this will be inhabited by elites who seek and embrace the living city. sumptuous and secluded, and prominently located within minutes of a world-class destination. There are plenty of places to eat, drink, relax and party in the revival zone. It also offers a wide choice of transportation, no matter where you want to go, as if you were in the middle of the city.
If you want to know more about the value factors of Zyanya Condo and why this project is so sought after, please see Zyanya Unique Selling Points for more details about the highlight of this project!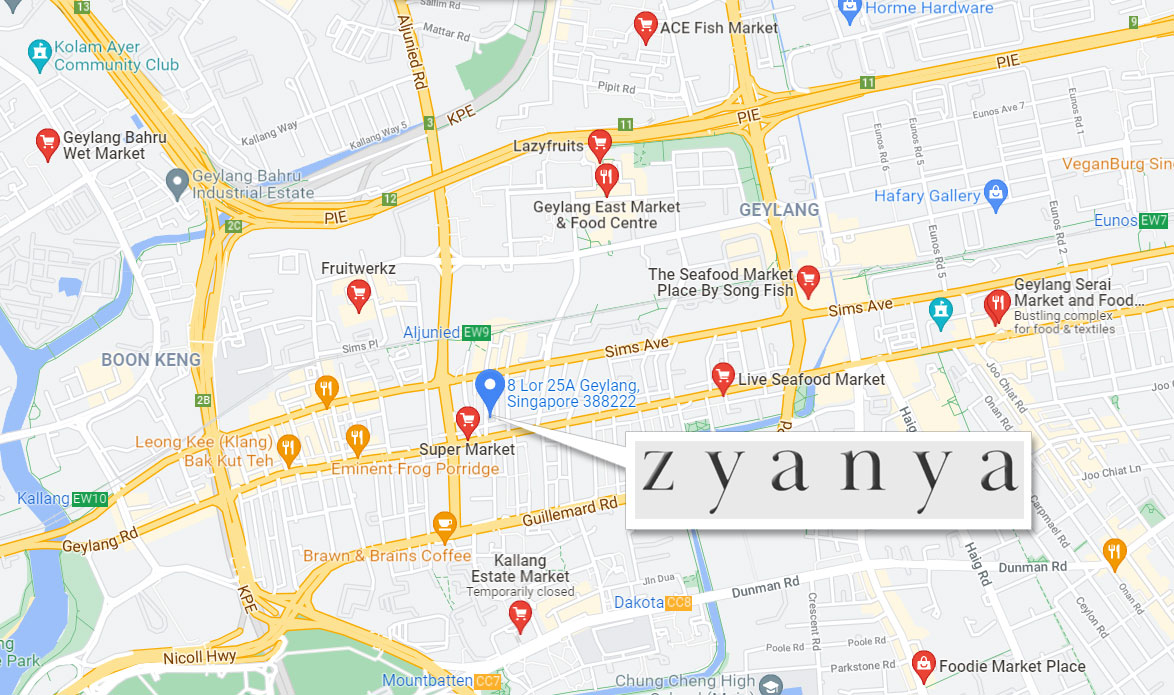 Sightseeing & Shopping: List of busy markets near Zyanya Condo
With a privileged location and extremely easy access, Zyanya Condo is within a reasonable driving distance of Central Expressway, Kallang Paya Lebar Expressway and Pan Island Expressway, providing residents quick access to the property. travel to different parts of the country. More specifically, owning a location near the MRT is an advantage of real estate in Singapore, Dakota MRT and Mountbatten MRT are both within a short walking distance from this apartment, helping residents to quickly to other parts of Singapore.
Additionally, the development is just a 9-minute drive from Orchard Road, Singapore's most prominent retail district. If you are looking for busy markets to shop for food and household items, this new apartment has near-quick connection to nearby shopping locations, you can enjoy shopping at markets with a variety of goods, spices and fabrics, etc.
Discover The Well-Connection at Zyanya With New Experiences
Zyanya Condo - Brings Exquisite Life and Impressive Connection!
Residents of Zyanya Residences will have the opportunity to live close to the traditional markets in Geylang, a recognized and preserved feature. It can be said that the food market is an Asian phenomenon scattered throughout the island nation of Singapore. As part of Singapore's signature lifestyle and culture, locals here have no trouble despite the wet and pungent conditions of the market. Nestled in one of Singapore's oldest Malay settlements, Geylang Serai Market offers much of the country's Malay culture - where every nook and cranny of the market gives you a glimpse of the photos. different influences from different communities in the Malay Archipelago.
One of the largest and busiest food markets in Singapore, Geylang Serai Market is both an important social hub and a great place to expand your culinary horizons with some traditional Malay food. Spend the weekend free to eat and shop at the famous Geylang markets around Zyanya Condo, you will surely have interesting experiences.
If you are interested in this project, follow all the latest news of Zyanya Condo at this website, as we are constantly updating with useful information for you!
Register Your Interest To Receive Direct Preferential Prices!
Zyanya Condo - The Pinnacle Of Sophisticated Living!